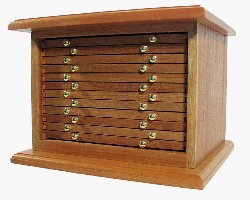 Hand crafted mahogany cabinets for collectors of coins, tokens, and medals.

Welcome! On these pages you will find information about the handcrafted mahogany cabinets I build as a hobby, for collectors of coins, tokens, medals, etc..

For centuries, mahogany has been the wood of choice for cabinets used to house collections by both individual collectors and many museums, a practice that continues even to this day.

The cabinets are constructed from 100% solid mahogany. There are absolutely no veneers, plywood, or filler woods used anywhere in the construction of these cabinets....only 100% solid mahogany. There are no dyes or stains used on the cabinets. Cork pads on the bottom help protect furniture surfaces and prevent the cabinet from sliding.

All exterior cabinet surfaces and the trays are sealed with a clear, satin finish,
water-based
finish to enhance the natural color and grain patterns of the mahogany, and to protect the surfaces from fingerprints, stains, etc..

The trays are crafted from solid mahogany and slide securely into 1/4 inch deep channels cut directly into the side walls. The trays measure approximately 9-3/4 inches wide by 8-1/2" deep by 1/2" thick. Each tray is fitted with two polished solid brass knobs for easy access. The bottom of each recess is lined with soft felt, available in either green or red. Examples of each can be seen on the GALLERY page. Drawers can also be fashioned in an open format to allow "free-style" display of unusually sized items. Drawers for storing slabs are also available.

The optional cabinet doors are also constructed from solid mahogany and are held closed by magnetic catches which provide enough holding power to keep the doors from opening on their own, but not too much so as to require excessive effort to open them. Doors can also be ordered with a brass locking mechanism and key.

You can see examples of all the door, lock, and tray options on the GALLERY page.